Affiliate Disclosure: This page may contain affiliate links. I may earn a small commission if you use my links. Please help support my efforts by utilizing these links as often as you can. Your help is very much appreciated. Thank you!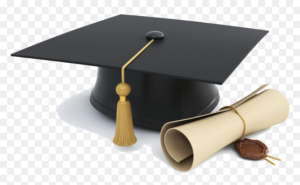 For as long as I can remember, educators, parents, and society in general have promoted the importance of a college or university degree.  Degree promotion has been so effective that nearly everyone thinks obtaining a diploma is a necessity.
According to the National Center for Education Statistics, college and university enrollment of 18 to 24-year-olds increased by 35% between 2000 and 2011, and enrollment of students age 25 and older increased 41% over the same period.  Okay, so more people are going to college.  Isn't that a good thing?  Shouldn't everyone want a diploma from a prestigious university?
What is the purpose of University Degree?
To answer this question, let's first take look at two Information Technology degree programs.
One program, offered by Texas A&M University, is a Bachelor of Applied Arts & Sciences (B.A.A.S) in Information Assurance and Security.  Out of the 120 required semester hours, only 36 are in the IT emphasis area.  The remaining requirements are English, Math, Natural Science, Humanities (Visual/Performing Arts), Social & Behavioral Sciences, Oral Communication, Global Learning (whatever that is), Required support courses (more math and/or programming), electives, and Technical or Vocational credits.  That seems like a lot of non-IT related classes!
Penn State's Information Sciences and Technology program has a 125-credit minimum.  It's confusing to read, but it looks as if there are only about 24 to 30 credits that are specifically related to the emphasis area.  That leaves nearly 100 credits of other electives, general education courses, etc.
Now surely all of these non-IT related courses are important.  They must be or they wouldn't be required for degree completion.  To suggest otherwise might indicate that requiring more classes equates to more tuition.  That might be a good strategy for for-profit institutions like the University of Phoenix, but it only works because publicly funded colleges and universities established these standards long ago.
Effective Marketing
Almost every teacher, in almost every classroom in the United States spends their entire day selling higher education.  We've all heard the cliché.  "You have to study hard, so you can make good grades, so you can get into a good college, so you can get a good job!"  That's roughly how it goes, right?  Employers have bought into it too.  A great deal of emphasis is placed on recruiting candidates with a college degree, but why?
Colleges & universities were once strictly the domain of academics.  College curriculum was historically rooted in natural philosophy, medicine, mathematics, law, rhetoric, and theology.  The teachings of Aristotle, the classics, Latin, and philosophical pursuits, such as the meaning of life, were "all the rage!" prior to the 19th Century.
The problem is that most that stuff isn't very sexy, and while some of it is practical for educators, professors, and scientists, it may not be so practical to a butcher, baker or candlestick maker.  Sorry!  I couldn't help myself.  The fact is that many professions never required any sort of formal education before the 20th Century rolled around.  Apprentices, learned on the job from skilled tradesmen, and that's how it worked for hundreds of years.
Modern universities really came to the forefront during the 19th Century, but trades were still mainly left out of the model, but a progressive movement in education took place in the late 1800's and early 1900's, which began to change the way American's viewed education.  Many other factors contributed of course, but public funding for higher education has perhaps been the most influential force of all.
Interestingly, the perceived importance of a college degree appears to also have had a negative effect on skilled trades.  Don't believe me?  Ask a high school student if they've learn anything in school about plumbers, electricians, or carpenters.  Then, ask them if they've learn anything about scientists, doctors, or literary figures.  I think you'll quickly see what I'm talking about.
What is the purpose of a college degree?
My point is simply that to provide quality support to any Information Technology discipline, no amount of education can make up for experience.  With the possible exception of specialized IT engineering disciplines, the vast majority of IT work is very much skills-based, and IT skills are rarely learned as effectively in a classroom as they are in the trenches.
As IT professionals, our priorities should align with our career goals and synchronize with our career progression.  Specifically, our level of education need not be more than on the same level or one level higher than our current position.
For instance, a great place to start in IT is in a help desk.  A help desk job teaches you how to deal with customers, and you generally get to experience a broader array of issues.  Your experience in a help desk environment can also help you figure which IT disciplines you are most interested in.  A Master of Business Administration degree is virtually useless to someone working in a help desk, but they are out there.  It might even be you!
When does college make sense?
At some point in your career you may transition from a technical to a managerial position.  At that point, the general college courses may become more important.  The problem is that once most people reach that point they have forgotten all of the relevant material they learned in college.
The track that I took wasn't very sexy, but it gave me a jump start on my peers.  I think there is and should be a logical progression with regard to skilled trades.  Early on, experience trumps education, but as you progress the need for education becomes more important.
I graduated from high school in 1994, and rather than go to college, I enlisted in the United States Army – a decision I have NEVER one regretted!  I attended college courses and job-related classes throughout my career, but I didn't graduate from college until 2010.  Up to that point, a degree was neither required nor seemingly beneficial for any purpose other than to boost my resume – one of the major benefits of a degree to be sure!
Should you pursue a degree?
The short answer is yes.  Whether we like it or not, our industry – like most industries – gives a lot of weight to having a college degree.  Furthermore, successfully completing a four year degree demonstrates an ability to commit to a thing and see it through.  It also suggests an ability to learn and operate in an institutional environment.
Your ability to do these things may be important to industry and business in the traditional sense, but as business is rapidly changing, degree requirements may change too – especially, if institutions of higher learning are unable to adapt to the new world of business.
Certifications
Finally, if you don't yet have your degree, you should at least be pursuing certifications.  Unlike degrees, certifications are highly focused and can be completed much more quickly.  They also demonstrate specialization and highlight potentially, in-demand skills that employers need right now.  Also, many colleges and universities will accept some of these certifications as transfer credits.  This can significantly reduce the number of classes required en route to your degree.
The importance and/or worth of a degree may continue to be a source of debate, but the fact that college enrollment is on the rise, and the fastest growing area of study is the field of IT.  So, if you are not pursuing a degree, you should at least give it some serious thought.
What do you think?
Please take a minute to leave a comment, and tell me what you think.  Is an IT degree worth it?  Why do you think so?  Likewise, if you think it's a waste of time and money, tell me about it.  I read and respond to all comments, and your input is always appreciated.
Also, please subscribe to my mailing list so I can send you important information and announcements.  Here's a secret?  I've never sent an email to my list.  I really want to treat my subscribers like VIPs, and I promise to NEVER send you a bunch of marketing material.  If I recommend a product via email, you can be sure that I absolutely think it's worth it.
As always, I appreciate your help in getting the word out by sharing this article.  Social media sharing buttons are included to make it easier for you.  I hope you have a great week, and if you're interested, please check out my podcast.  It's available on iTunes and Stitcher.  Until next time, have a great week.