Affiliate Disclosure: This page may contain affiliate links. I may earn a small commission if you use my links. Please help support my efforts by utilizing these links as often as you can. Your help is very much appreciated. Thank you!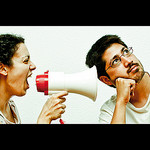 The ability to communicate effectively is a crucial skill that must be developed just like any other. Your ability to recognize barriers to communication and respond to them appropriately can be improved with just a bit of practice and patience. In this brief article we will discuss 4 common communication gaps & how to overcome them.
The Knowledge Gap – Adopting a laymen's vocabulary
Some may think that IT professionals speak in a secret code or another language entirely, but Jargon exists in almost any trade, skill, hobby, sport, or profession.
If you've ever spent any time in the military, you likely know exactly what I'm talking about. I'll never forget the first time I heard a DI – that's Drill Instructor – say something like this:
"Hey Private, Double-time it to the D'Fac ASAP for KP. When you get there, call the SDO. Tell them to send whoever's on CQ to the Head-shed. The 2nd floor latrine needs attention PDQ!"
If the previous sentence made any sense to you at all, thank you for your service! If not here's a translation in laymen's terms:
"Hey pond-scum-lower-than-dirt-good-for-nothing-maggot, RUN – DO NOT WALK, JOG, STOP TO PEE, or LACE YOUR BOOTS – RUN to the Dining Facility NOW (as in yesterday) for Kitchen Police (washing dishes, moping, wiping counters, hauling trash, etc.).  The second you arrive, call the Staff Duty Officer.  Tell them to send whoever's on Charge of Quarters Duty to the Headquarters Building. The 2nd floor bathroom needs attention Pretty Darn Quick!"
The point is that many of us often use jargon to communicate in a technical environment amongst our peers.  However, sometimes we have to convey concepts to others who may not be familiar with that vernacular.
Our everyday language may sound like gibberish to others, or worse, doublespeak. In other words, when describing a technical issue, know your audience. When you must convey technical information to non-technical people, you should attempt to do so without being condescending. It's okay to use technical terms when you have to, but be sure to allow for inquiry.
For example, you might start with something like, "Are you familiar with xyz?" This will allow you to gauge your audience's technical understanding before making any false assumptions which could lead to a negative result.
Relevancy Gap – Making the Connection
Sometimes we may be required to convey information which may not seem immediately relevant to our intended audience.
For example, if an event, such as a fire in another state that forces an evacuation from a facility that supports our operation in some way, it may not be immediately apparent if the audience is not fully aware of that dependency.
If we assume that our audience understands every nuance of a situation without confirming that to be the case, the impact of the event may not be immediately apparent. This is especially dangerous if the audience is expected to act upon the information.
Never make assumptions about how much background information your target audience may have. Always ensure that any required understanding exists, and if it does not, make that connection first. Otherwise, your audience may not even recognize the relevance of a particular event.
Perception Gap – Acknowledging alternate points of view
You've probably experienced a situation where you misunderstood someone's meaning. Maybe you misheard there inflection, did not see or notice a visual cue, or did not hear or understand a key word or phrase.
Perception has more to do with your audience than with you. Attentiveness, distractions, stress, and fatigue are but a few of the barriers that may hinder an audience's perception of the information you may be trying the covey.
"What you see and what you hear depends a great deal on where you are standing. It also depends on what sort of person you are." – C.S. Lewis, The Magician's Nephew
While your audience's perception of what you are trying to convey may not be wholly within your sphere of influence, there is at least one specific step you can take to remove perception as a barrier.
Ask probing questions to ensure your audience understands or perceives the information in the way you intend for them to.  Ask for information that will help you clarify ambiguities or point-of-view related problems. Then, deal with them immediately.
Preconception Gap – Learning to Expect Them & Prepare
We all have preconceptions about things in life. These preconceptions, misconceptions or prejudices can stem from many sources. They can be cultural, religious, experience, or just plain bad information.
In equestrian circles, many people still believe that wild Mustangs were untrainable, but that widely held belief is simple untrue. These wild horses require a different approach to be sure, but they are certainly trainable.
As with any preconceived notion, they can ALWAYS be overcome by facts. Even if the facts will not change the position(s) of your audience, the facts are always important to understand.
The best way to deal with prejudices is to expect them. Once you accept that they exist you can work to get past the surprise that may accompany being faced with them. The next step is to acknowledge these prejudices and formulate reasoned responses.
You may also find that some preconceptions have become so hardwired that they seem impossible to overcome. For those, you will have to find a way to get around them in a mutually beneficial way.
In summary, these communications gaps are simply a part of everyday life, but they can all be bridged. Strengthening your understanding of psychology can help, but you don't have to be medically trained to become an effective communicator. Like anything it simply takes a little study and practice.
For more information on the subject of communication, check out some my recommended books.