Affiliate Disclosure: This page may contain affiliate links. I may earn a small commission if you use my links. Please help support my efforts by utilizing these links as often as you can. Your help is very much appreciated. Thank you!
For several years now, the VCE or Visual CertExam file format has been the popular choice for running certification test simulations.  Whether you approve of the practice of studying brain dumps or not, they are an effective way to prepare for a certification exam.  That fact is undeniable.  Any certification instructor who wants to give their students the best possible chance of passing an exam will provide them with information and resources outside of the official curriculum, such as Visual CertExam and the very often free VCE files that are available for download from multiple sites such as examcollection.com.
New Pricing!
Though I never saw any sort of public announcement, Avanset suddenly changed their pricing structure sometime in late March or early April of this year (2014).  I had personally purchased Visual CertExam Suite (Manager Only) in early March for a one-time fee of $29.99.  I have been planning to create an IT Certification Exam Guide for quite some time, and intended on showcasing their simulator in my guide.  However, when I went to the Avanset's website today, I was shocked to learn that they had implemented a subscription-based monetization strategy.  Normally this wouldn't be a problem.  If you put in the work to develop great and valuable software, then you should absolutely be able to make a profit from it.  In fact, I hope to make my blog profitable someday, but more on that later.
The shock was in the extortionary price tag. Okay, I'm not sure if extortionary is real word or not, but I'm using it anyway.  Their new basic product can be subscribed to for $19.99/month, but only with a 1-year long subscription which must be paid in advance.  A 1-month subscription is now $49.00.  That is simply insane!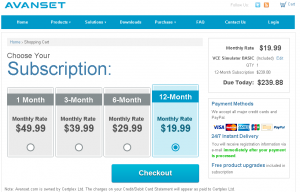 Is it Time for Some Competition?
This revelation actually made me angry.  I immediately, sent them an email detailing my disappointment.  I know it was a complete waste of time, but it made me feel better anyway.  My first thought was that there is no way this is going to work.  Every programmer, coder, or developer will be working on a replacement for their exam simulator.  My next thought was that maybe I would put together a team and develop a solution myself.  Okay, I'm not a coder, but tried to take a look at the file format.  That's when I discovered that it was encrypted.  Okay no problem.  I'm sure someone else has already cracked that nut so off I went to google.
The weird thing is that nobody else seems to have done it.  I found a few discussions about it here and there, but by and large, nobody really seemed interested in it.  I wouldn't have bothered either at $29.00.  I felt that was a fair price point; perhaps even a great value.  I may have even been willing to pay up to $50.00, but not for 1-month only.  $239.88/year is simply beyond the pale.
How Did We Get Here?
The creators of this format made it super easy and free to convert brain dumps from PDF or text to VCE files which could then be opened with the Visual CertExam Simulator software.  The simulator provides an experience that is very similar to the actual certification exam, and includes other features to aid in memorization and practice.  Basically, other people created the testing content to be used on their proprietary platform, and for this content they paid nothing!
Websites such as examcollection.com provide a repository for these brain-dumps which can be downloaded and used to practice for an exam.  Free exams created by a rabid community of fans who will buy software and create more free exams.  That's an incredibly smart business model, and it provided value for everyone.  However, this new pricing structure puts that model in jeopardy.
I noticed a while back that examcollection.com, which used to be a free vce repository had begun offer premium exams.  These premium exams were curated, and guaranteed to be accurate.  Okay, that's fine.  Many people are willing to pay for practice exams so I saw no problem with it as long as the free exams remained available, and so far they have.
Essentially, I feel like a sort of bait and switch has taken place.  Much like a drug dealer, you are given a little taste and then a little more until you're hooked.  Next, you begin to get less and less for your money.  Then, when you are sufficiently addicted, the price goes through the roof, and you are willing to knock-off a liquor store to get your hands on some blow.  Note: I assume that's how it works. Of course this is based upon my extensive research in the field, and by research I am referring to episodes of Miami Vice and Breaking Bad!
Something Smells fishy…
I decided I was going to explorer creating a new, open source exam simulator, but before doing so I wanted to see if anyone else already had something to meet the need.  While it doesn't appear that anyone else has, I thought I would head on over to examcollection.com and see if they recommended any other simulators.  They don't, but I noticed a few interesting things on their page.  First they have dedicated a large portion of their sidebar to multiple links to the VCE Simulator Software and a Tutorial, all of which takes the user to Avanset.com, but they aren't affiliate links.  As far as I can tell, they don't even have an affiliate program.  Wouldn't it make since for examcollection.com to create their own exam simulator rather than send traffic to another company?  Maybe; maybe not!  They also have three other large links: Pass4sure, TestKing, and BrainDump.  These are all fairly well known brain dump and practice test providers.

Initially, that didn't seem very strange to me until I noticed the links.  They look like affiliate links, but with the exception of pass4sure, their affiliate programs are difficult to find or seemingly impossible to sign up for.  They also all seem to have a UK mailing addresses.  Okay, so exam prep is big business in the UK, but I noticed something funny on a few of the sites.  Avanset and Braindumps.com have the same "Featured Customers" graphic! Okay that's weird!
They also share the same address: Certplex Ltd, 27 Old Gloucester Street, London, WC1N 3AX, United Kingdom, and according to examcollection.com's contact page they are owned by Certplex Ltd as well.  Well, what do you know!
Who is Certplex Ltd.
When I performed a google search for that address, things started to become much clearer.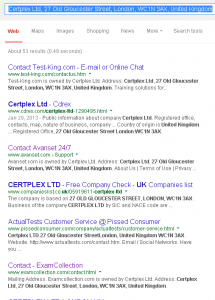 The first result is Test-King, the third is Avanset, and even ActualTests is owned by Certplex Ltd.  Okay, so they own most or all of the commercial brain-dump repositories.  They own what appears to be the only (or at least most well-known) test simulation software, and they control the most popular repository of free exams.  All of which require their software to use.  Well, how do you like them apples!
Okay, this is obviously a well-orchestrated initiative, but what's the purpose of going to such great lengths to obscure the connection between these companies.  Granted, a very small amount of digging will bring these connections to light, but why would you have to dig at all.  Whatever happened to the concept of providing excellent content and value for your customers to earn their business rather than dupe them into buying your products because no one else exists to compete with you?
My philosophy
I believe customers should ALWAYS be the central focus of any endeavor.  Notice I did not say the customer is always right.  Often the customer is an idiot, but that doesn't mean the customer should not be the focus.  For example, this very blog was created out of a desire to provide real value to those who choose to consume it.
I am a firm believer in the concept of creating and delivering value first.  How can anyone expect others to give them money without first having earned it?  In addition, the knowledge and experience I have gained is only useful if I choose to share it with others.
If this site ever earns an income, I want it to be because I provide valuable content that garners such an income.  I am not really interested in pedaling crap for a quick buck.  There are already enough of those jerks on the internet.
What Can I/We Do About It
I would like to put together a team of 5 to 10 truly sincere individuals who are interested in creating a community-developed and supported, open source exam simulator software.  However, some basic criteria must be established:  1) it must be developed with a user-centric focus; 2) it must be cross-platform and look and perform better than anything that currently exists; 3) it must remain free for non-commercial & community-supported use; 4) it must be extremely easy to use, and 5) any monetization must never prevent or otherwise make it difficult for end-users to obtain and use.
The potential success of any such software is predicated on the willingness of a community to provide the content in the form of practice exams, and I believe it is nothing short of evil to leverage such free content which has been created by others to make money.  However, corporate customers could potentially benefit from a branded exam delivery solution that can be built on this platform.  Likewise, a premium support feature could be established to enhance value and meet the needs of those requiring such a level of service.
Finally, I would like to find a way to ensure that developers and contributors to the product are given credit and fairly compensated when and if any such compensation occurs.  If you're interested in getting involved, please leave a comment on this post, or send me a note using my contact form.  I will read and respond to all of them, but the initial team must be limited.
A Word on Engagement
My ability to provide maximum value is directly tied to the level of engagement and participation of the Cyber Career Coach Community.  Interaction with my subscribers is incredibly important to me, and I am determined to make this the most value resource anywhere for Information Technology and Cyber Professionals who are serious about improving their career.  If you want to be a part of something unlike any other career blog you have ever seen, please like my facebook page, subscribe to this community, follow me on twitter, linkedin, and share, share, share with your friends.  A Podcast is coming very soon, and I'll be adding new and better content to Youtube and other outlets as well.  Please join me on this incredible journey.
[UPDATE]
First, I am thrilled with the amount of engagement this article has generated.  Based on the growing number of alternative simulators available, I have chosen not to pursue reinventing the wheel.  However, please take a moment to look over the content here.  This website goes much deeper than a scathing expose on Avanset.
If you're taking certification exams, it is likely that you are interested in expanding your knowledge and/or improving your income.  If either of these apply, this is site for you. Once again, thanks for taking the time to read!  You may also be interested in the podcast