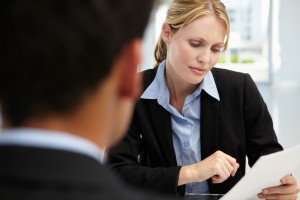 Well, you got the call.  Your resume made the cut, and your interview is scheduled for tomorrow afternoon.  Holy Cow!!! Tomorrow afternoon!!!  Okay, don't freak out.  It's just an interview.  Everything is going to be just fine.  If you follow these 5 interview techniques, I guarantee you'll do just fine.
Dress and Appearance
This may seem obvious, but you would be surprised by some of the questionable wardrobe choices made by prospective employees.  First, flip-flops and a tank top are NEVER a good choice, unless you're interviewing for a job with a surfboard manufacturer or a…
…You know what? Scratch that! flip-flops and a tank top are never a good idea.  PERIOD!
On the same note, anything you might consider cool, such as 2″ spacer earrings, eye-brow rings, or nose rings, may not be considered so awesome by whomever may be conducting the interview.
It's important to consider the reality that not everyone appreciates body art and dreadlocks.   In business, its generally a good idea to tone it down a bit.
With that in mind, choose colors that represent professionalism.  Black and Grey almost always work.  Red, Blue, and Brown can work as well, but stay away from loud or multicolored items if possible.